Haygain purificateurs de foin
Pourquoi les purificateurs Haygain ?

Le purificateur Haygain a été démontré de manière concluante dans les essais scientifiques d'éliminer les moisissures nuisibles, les spores fongiques, les bactéries et les acariens de la poussière trouvés dans le foin; et éliminer la menace pour la santé des poussières respirables.
La recherche a montré que 88 % des chevaux souffrent de la maladie inflammatoire des voies respiratoires (IAD) et que le foin purifié à la vapeur avec un Haygain réduit l'incidence par 65 %.

« Haygain est la seule méthode de purification à la vapeur où je suis confiant que le foin est purifié à fond et atteint les températures requises pour améliorer la qualité de l'hygiène du foin sans effets néfastes. »
Dr David Marlin, physiologiste de l'exercice équin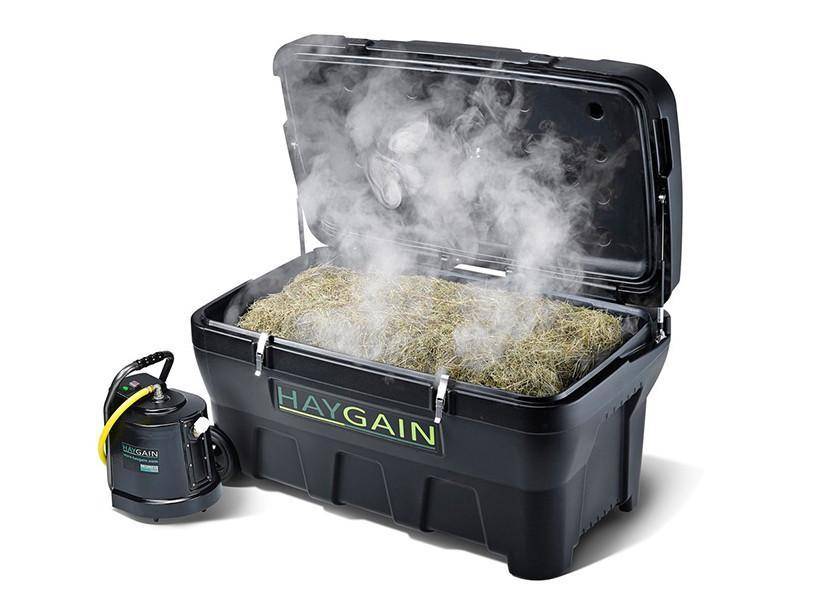 * Dauvillier J, Woort F. T, Van Erck‐Westergren E. disease (2018) Fungi in respiratory samples of horses with inflammatory airway, Journal of veterinary internal medicine, 2018;1-8

« J'ai eu mon Haygain depuis 8 mois. Le purificateur Haygain leur a sauvé la vie, et la mienne. »

Susan Cady Lima, Michigan.
« Ça fait 5 ans que j'ai eu mon Steamer Haygain. C'est la meilleure chose que j'ai jamais achetée pour la santé de mes chevaux. »

Lori Whitman, Wisconsin
« Mon purificateur Haygain a sauvé la vie de mes chevaux ! Merci beaucoup, Haygain ! »

Martha Ferguson, Toronto

« Nous utilisons un purificateur à vapeur Haygain depuis 9 mois et cela a fait une énorme différence pour nous. Belle respire mieux et ses poils sont magnifique. »


Charlie Lieske, South Carolina
« Si je donne à mes chevaux du foin sec, ils toussent mais quand ils ont de foin purifié à la vapeur, les toux s'arrêtent. Je ne pouvais pas m'en sortir sans mon Haygain. »

Shiela Williams
« ... non seulement il aide ses problèmes respiratoires (respiration sifflante, toux, difficulté à respirer...) mon cheval adore son foin purifié à la vapeur. »

Carol O'Neill

Avez-vous besoin d'un Haygain?
Les signes de maladie respiratoire ne sont pas toujours évidents ... Mais les effets peuvent être nombreux.

Toux, écoulement nasal, augmentation du rythme respiratoire, augmentation de la température, respiration anormale, récupération lente après l'effort, performances médiocres au cours de l'exercice, déglutition fréquente et sang dans les narines après l'exercice sont tous des signes d'une possible maladie respiratoire.

Les effets sur la qualité de vie du cheval et ses performances au jour le jour peuvent être importants.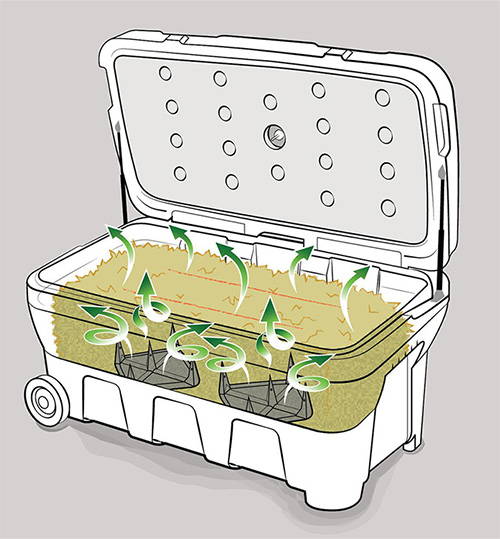 Conçu pour offrir les meilleurs résultats
Coffre à double paroi, isolée thermiquement

Système de pointes breveté unique qui pousse la vapeur du centre vers l'extérieur du foin

Assure une distribution uniforme de la vapeur dans tout le foin

Plaques en bas en aluminium chauffe de dessous pour une efficacité optimale

Générateur de vapeur robuste assure que la température dans le coffre dépasse les 100 degrés

Purificateur à vapeur pour les écuries de toutes tailles (le plus grand purificateur conçu pour 4 + chevaux)